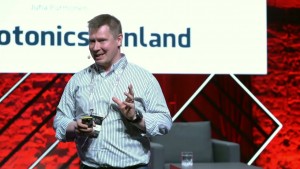 The photonics industry in Finland is currently worth around 1.2 billion euros a year and employs 4,200 people. Of the 260 companies working in photonics, 60 (30%) have been established since 2016, our primary photonics capabilities are optical sensing and imaging, micro and nanophotonics, lasers and fibers, and VR, AR , MR and XR. Since 2014, Photonics Finland has helped advance photonics in Finland by being an industry-driven multidisciplinary technology cluster that aims to promote new opportunities in photonics research, support the market launch of new products, create new business and increase visibility in Finland and Photonics abroad.
EPIC Director General Carlos Lee had the opportunity to speak with Photonics Finland Executive Director Juha Purmonen to find out how the technology cluster was launched and how it is driving the photonics industry in Finland.
What is your background as Executive Director of Photonics Finland?
In 2002, I graduated from the University of Eastern Finland with a master's degree in applied mathematics. At that time, because of the influence of Nokia, everyone was studying signal processing, and I was doing a master's thesis in cryptography. This involved taking a position as a software engineer at PT-Controlnet, where I developed different types of encryption solutions for non-secure Bluetooth connections. Then, in 2003, I started my PhD in spectral color research and photonics, focusing on spectral video compression and the development of machine vision techniques for spectral imaging, color science, and industrial applications.
My research included 6 months at the National Institute of Communication Technology in Japan and 3 years as a researcher at the InFotonics Center Joensuu in Finland, where I developed a commercial application for spectral video compression.
In 2005, I decided to use my research experience to start my own company, SoftColor Oy Ltd, with my partner Petri Piirainen. We both have backgrounds in digital signal processing, computer graphics and physics, and our goal is to focus on developing automated image processing based on our own patented automatic color correction technology.
While the company is growing well, in 2010 I became the Development Manager at Joensuu Science Park Ltd., where I was responsible for developing the photonics project and leading their Nanotechnology Cluster Initiative. By 2012, I and others working in photonics had understood that Finland needed to build its own national platform for optics and photonics, as Sweden did in 2011. So, in 2012, I became part of a 2-year project by the Finnish local government to propose a national cluster of photonics companies and universities to share information and promote business opportunism in photonics in Finland By. The result was Photonics Finland, founded in 2014, and I was appointed Executive Director due to my leadership role in the project and experience developing the Joensuu Science Park cluster plan.
What are the main challenges for photonics in Finland?
The first challenge is to convince potential members that Photonics Finland will function as a true national organization, not just serving the interests of large corporations and some more prosperous economic regions. To solve this problem, we are always transparent and ensure that the board is composed of representatives from all major cities in Finland. The second challenge is balancing the needs of academia and industry, which obviously have different interests. We are very focused on the Swedish case of photonics and we know it is crucial that academia and industry are in the same organization. It didn't work and they suggested that we combine representatives from industry and academia under one umbrella. Initially, some industry representatives in Finland were wary of joining an organization with academics on the board, fearing that most of the resources would go to academic research. To overcome this problem, we have established a system in which the chairman is elected for a two-year term, alternating between industry and academia, with the chairman being academia and his or her deputies being industry, and vice versa. The other six members of the board are equally represented, 50% from academia and 50% from industry.
How has photonics developed in Finland?
We currently have 277 individuals and 105 corporate/society members and 550 members from academia and industry. The main part of our activities is the organization of events and conferences all over Finland, with technical topics depending on the importance of each city. For example, Kuopio focuses on healthcare and medical applications, while Koli has a long history in forests and photonics. We try to bring photonics to as many cities as possible, so our annual event "Optics and Photonics Day" and our participation in "International Day of Light" are held each year in a different city. We also organize annual pavilions for interested companies at international exhibitions such as Photonics West and Laser Word of Photonics.
Recruiting is very important these days, so we have a "job board" for members to post their own vacancies using their own words. Related to future recruiting is the Photonics Explorer Kit we are promoting for schools. Finland has distributed over 100 kits aimed at educating and encouraging secondary school students to study STEM subjects and consider a career in photonics.
Finally, an important development is that Photonics Finland now has its own legal status, which allows us to participate in various European projects and receive funding, such as PhotonHub Europe, which allows us to provide Finnish companies with expert advice and an advanced photonics technology platform. Another EU project is Photonics4Industry, which aims to strengthen cluster management and create networking opportunities with other photonics clusters in Europe. In addition, we have partnered with Photonics21 to conduct surveys to collect data to compile annual reports on the Finnish photonics industry and specific markets such as food and forestry.