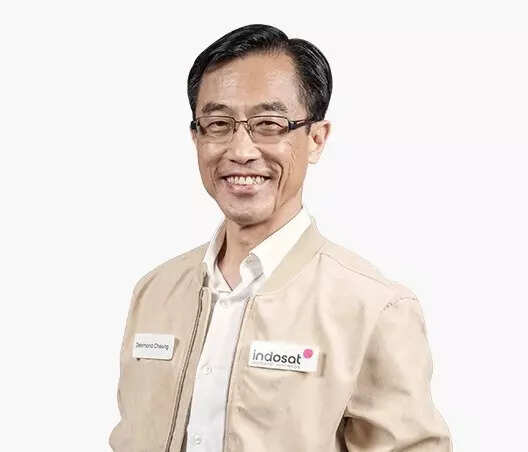 Desmond Cheung is Chief Technology Officer of Indosat Ooredoo Hutchison. Desmond started his mobile communications career in the early 1990's with analog cellular systems. Desmond held leadership roles in a number of organizations before joining Indosat Ooredoo in January 2022. From 2010 to 2015, he served as CTO of Hutchison Mobile Network Vietnam. In 2015, he took over as CTO of Hutchison 3 Indonesia.
In an exclusive interaction with us, Desmond shares his thoughts on some of the technology trends dominating the Indonesian telecom industry and the most prominent key trends in the Indonesian telecom industry in 2023.
What are the technology trends dominating the Indonesian telecom industry?

First, the telecom market is growing. Indonesia is one of the largest markets in Asia with a population of 278 million. The Ministry of Finance predicts that the Indonesian economy could gain as much as US$2.8 trillion by 2040 through technology adoption, including in the telecommunications sector. As one of the fastest growing telecom markets in the world, the Indonesian telecom industry is driven by growth in mobile and fixed broadband subscriptions. We expect MNO competition, especially for customer acquisition, to continue to be intense, as prepaid subscribers in Indonesia dominate the market.
Second, mobile broadband users still dominate, but opportunities exist in the fixed broadband market. Data traffic is still dominated by mobile broadband, and the penetration rate of mobile broadband far exceeds that of fixed broadband. Because despite Indonesia being one of the largest telecom markets in the world, mobile broadband prices in Indonesia are among the lowest in the world. In contrast, fixed broadband prices are relatively high compared to the average per capita monthly expenditure of Indonesian households. We believe that affordable data tariffs lead to high data consumption as telecommunication has become one of the basic needs of people nowadays. On the other hand, we are also strengthening our fixed broadband business in Indonesia.
Third, the telecommunications industry supports digitization. Indonesia is becoming the fastest growing country in Southeast Asia for digital economy and Industry 4.0. The telecom industry is rapidly developing and transforming to support digitalization and help the country's economic recovery faster. Telecom operators play a vital role in this to ensure people stay connected and have a seamless digital experience.
Post-Covid, we see that the shift from offline to online events will continue. Given the increase in 4G subscribers, affordable data tariffs, mobile handsets and players' investment in capacity networks, we expect broadband data traffic to continue to surge.
The next trend is that 4G is everywhere, and it's time to prepare for 5G. 4G networks are the most widely used by consumers today. We are happy to share that IOH now has nearly 90% of the 4G population covered. Additionally, Indonesian telcos are concentrating on refactoring 3G to 4G for better use of spectrum before focusing on 5G development.
The fifth trend is building 5G use cases. We're looking at the best 5G use cases for the country today. IOH works with different sectors, namely manufacturing and education; and global partners that will help Indonesia leverage and benefit from 5G technology in collaboration with global partners such as Google. In Indonesia, this is just the beginning and we believe this will be the 5G use case realization game starting next year.
What challenges does the country's telecommunications industry face?

We needed a sustainable model to bring a seamless experience to the country as Indonesia has one of the most unique and challenging markets due to its geographical landscape. The telecom industry requires high CAPEX investment to improve network experience in such geographical conditions.
In addition, the biggest challenge for operators is how to maximize the use of 5G services to empower business and customers, while also making it profitable for telcos. Therefore, IOH is trying to cultivate 5G best practices through various use cases in multiple cities to study how to maximize the potential use in Indonesia.
What are the main challenges for Indosat Ooredoo Hutchison this year?

Our biggest challenge is to constantly improve ourselves so that we can fulfill our mission of delivering a world-class digital experience that connects and empowers every Indonesian. Going forward, our aim is to continue to provide simple, transparent and relevant products and services.
Here are some other issues we mainly focus on:
Excellent Customer Experience: We understand that clients do not need to know the spectrum or technology they are using in their digital activities. Whenever they experience smooth video streaming, video conferencing or online gaming without any lag, we have won their hearts. Unfortunately, Indonesia's tariffs are among the lowest in the region. Therefore, we need a healthier market where operators can invest more to overcome Indonesia's geographical conditions and challenges in terms of coverage, transmission connectivity, new technologies and reasonable spectrum fees.
Digitalization and the 5G Ecosystem: Everyone is saying that 5G is the future of the telecom industry. More than just speed, 5G will provide a platform to unlock many innovations and opportunities to improve society and the economy. Together with regulators and other telecom industry players, we need to accelerate the readiness of the ecosystem of devices, networks and applications, while preparing Indonesia's human resources for future developments. IOH will continue to support this 5G revolution in Indonesia by providing connectivity and digitization in cities that are in need and ready.
Energy saving solutions: We need to provide power for our base station sites and data centers. As traffic payload increases, so does energy use, impacting our costs and carbon footprint. Therefore, we always strive to find innovative energy-efficient solutions to achieve higher performance while consuming less electricity for a more sustainable business. It will also save humanity and the planet in the long run.
What do you think are some of the most prominent technology trends in the Indonesian telecom industry in 2023?

By 2023, we expect broadband data traffic to continue to surge next year, considering the increase in 3G/4G users, affordability of data tariffs and handsets, players' investment in capacity networks, and trending activities from offline to online.
A healthier telecommunications industry is another trend we foresee. A healthier business competitive environment where operators focus more on customer experience, products and services rather than price. This is positive for telecom operators as the current surge in data traffic is not optimally covering their heavy capex. Mobile broadband prices in Indonesia are twice as low as in Malaysia and among the lowest in the world. In contrast, fixed broadband prices are relatively high at US$34.81/5 GB, while Indonesian households spend US$82.82 per capita per month.
Finally, 5G will be a major trend. The mass deployment of 5G should go hand in hand with the maturity of the ecosystem.
We hope that the introduction of 5G technology will open up numerous opportunities to support digital transformation across industries and markets. I believe 5G will have a significant impact on the daily digital life and business activities of Indonesians by providing an enhanced customer experience. 5G will be one of the driving forces of digital transformation along with IoT, big data, cloud, artificial intelligence and automation to enhance mobile broadband experience, potential incremental growth in productivity, emergence of new business innovations and the advent of the fourth mobile communication Further develop the Industrial Revolution.
Your piece of advice to CTOs when building digital resilience in their organizations.

One piece of advice I have is to embrace it to have the opportunity to set the right priorities for the most impactful disruption risks. Based on the 80-20 rule, coupled with zero trust security and other anti-data theft strategies, CTOs can quickly build digital resilience in their organizations.